The third Kenny Rogers' skit and episode from MadTV. Hilarious as always.
Host: Joe Rogan - Michael McDonald
Chris Tucker - Debra Wilson
Sisqo - Aries Spears
Rosie O'Donnell - Alex Borstein
Kenny Rogers - Will Sasso
Here is the transcript to the Fear Factor Episode
Joe:
Welcome to fear factor
I'm Joe Roglan, Rojam?
Well the cue cards are going a little fast, maybe we could slow them down?
The stunts you are about to see are very, very dangerous.
Try them at home,
Okay,
Whatever I just said there's supposed to be a don't in there somewhere
So maybe we could slow down the cue cards down huh?
Voice:
Tonight on an all star Celebrity Fear Factor:
(shows the four celebrities walking in slow motion, zoom in on Chris)
Chris: Bring on Fear Factor I am the funniest man alive
I am box office gold
(Cut to show contestest bio):

Yall can't touch me, ladies man, y'all try to touch and you'll cut yourself you know why cause I'm sharp!
That's right I am as sharp as a tac
Tickedy tact tac, tac, tac speaking of that I need me a tic tac
Cause my breath be stanking! Y'know what
(Cut to contestant bio):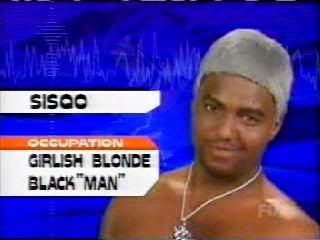 Sisqo:
Girlfriend I ain't afraid of nothing well except,
neck breakers and snakes and bugs
Plus I don't like wind and superficiality of any sort.
I ain't gonna stand for it!
(Cut to contestant bio):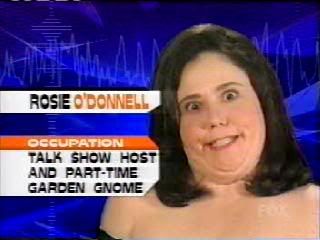 Rosie:
I ain't afraid of nothin'
Bop bop potato dow Hey
Accept maybe if Canny disappeared from hear
Arghh gimmie that!
(Cut to contestant bio):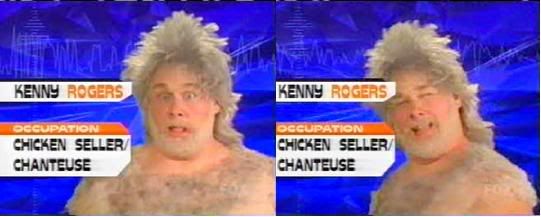 Kenny:
HI I'M KENNY ROGERS!
Welcome to the Kenny Rogers invitational golf clasic
What a beautiful day it is here in Charlottesville Virginia,
Golf greats young and old like Chip Malloy and Billy Loomey will team up with today's two hottest stars:
Cindy Lauper and Patrick Duffy!
STUNT ONE

Joe:
okay Celebrities, and Sisqo, here is your first stunt
You will stand against this wall
(Chris interrupts Joe)
Chris:
Lemmie tell ya sumthin'
I can stand up against a wall that's Eeazy!
Watch this man I'ma stand against the wall, gonna have my back right up against the wall
I'm tellin' ya Fear Factor, y'all better have my money!
(balls start hitting chris)
I make too much money for y'all to be messin' with this face,
don't be messin' with this face
Joe:
You will stand against the wall and try and dodge the pitching machine.
You ready Chris?
Chris:
OOOHHWW!
Joe:
Also you can't scream or fall
You ready Chris? Chris?
(Chris is lying on the ground with a ball in his mouth)
YOU'RE OUT! YOU BLEW IT! YOU'RE GONE! HOW DOES IT FEEL!?
Chris:
Man I feel like Randy King, no just no peace
Get off me man, watchu tryin' to do to me?
Did I win anything?
(Cut to Sisqo against the wall)
Sisqo:
Stand against the wall with balls flying in my face
Now I know what Christina Aguilera feels like.
(loads of balls are fired at Sisqo)
Uh, UH, AHH, Ah Harder…..ARGHHH!
(Sisqo is lying on the floor)
Joe:
YOU'RE OUT! YOU BLEW IT! YOU'RE GONE!
I'd ask you how you feel but I just don't care, neither does anyone else
(Cut to Rosie against the wall, with balls flying at her)
Rosie:
C'MON! I can't feel your balls!
I CAN'T FEEL YOUR BALLS AT ALL!
CAUSE I'M SHOT FULL OF ANTIDEPRESSANTS!
(She turns round and the balls bounce off her butt)
Bop Ba potato da dow argh!
(Cut to Kenny against the wall, with balls flying at him)
Kenny:
And welcome back to the Kenny Rogers invitational golf classic
If you've just joined us, Billy Loomey is about to serve
SON OF A BITCH, LOOK AT THE SIZE OF!
(one of the balls smashes Kenny bottle)
ARGH I BROKE MY BOOZE!
(cut to Rosie Joe and Kenny who is guzzling some alcohol)
Joe:
Chris and Sisqo have been elimina…elimin
Hey Kenny do you know that word there?
Kenny:
NAH MAN I DON'T EVEN KNOW WHERE I LIVE! HA HA HA
I'M GONNA KICK YOUR ASS MARLON BRANDO!
Rosie:
I'm Rosie you fat Boozebag
Kenny:
BOOZEBAG!? YOU CALLIN' ME A…
Hey I kinda like that
Joe:
Hey Celebrities are you Hungry?
Kenny:
Every minute of the day
Rosie:
Oh yeah, 1, 2, 3 o'clock 4 o'clock I eat.
5, 6, 7, even 7 I eat 7:30, 8 o'clock, 9 o'clock, 10 o'clock maybe even 11
(Kenny interrupts Rosie)
Kenny:
SHUT UP DANNY DEVITO!
Joe:
Let's bring out the box
STUNT TWO
Kenny:
Oh the box I've seen this, this is the part where they eat LIVE BEETLES!
Rosie:
Oh, when I saw it, it was with worms
Joe:
This time it's better, we've got live kittens.
(shows 4 kittens in the box)
The Celebrity who…eats the most… kittens gets the Grand Prize
Roseie:
Come 'ere you
C'MON GET IN ROSIE!
(Rosie tries to eat one kitten)
C'MON Arrrr oh Sweet Mama this is tough, I have eaten the tire of a truck and a bucket of ball bearings but I Rosie can't do it, I can't bring myself to eat em'
Kenny:
Hey MOVE IT TOUGH GUY!
C'mon here hold this
(gives Rosie his bottle to hold)
(He picks 2 kittens out of the box)[/i]
Alright Now I'll take you and I'll take the mustard cat
(Kenny begins eating the two kittens, while Rosie and Joe look on in disgust as furr balls fly everywhere)
(shows Kenny finishing the kittens with furr all over his beard)
Joe:
You did it man you ate the Kittens man,
How does it feel?
Kenny:
Well to be honest it could've used some potatoes ha ha ha
I ain't complaining though, kinda tastes like chicken,
Not my chicken, KENNY ROGERS' ROSTERS COCKADOODLE GOOOOD!
Joe:
Fear is not a factor for you Kenny Rogers
You have just won $50,000.00!
Kenny:
50,000, $50,000.00? F*** YOU MAN, I WIPE MY ASS WITH $50,000.00!
Tell me this Joe, what kind of crazy Golf Tournament is this?
What's that?
(Kenny hits Joe in the head with his golf club)
Ha, ha, ha, ha
Whoops, hit the bucket
Hey Joe wait, I wanna beat the Sh** out of you!
(Kenny chases Joe Swinging his golf club at him, they both run into the distance)
Joe:
Help!
Help Me!
Cue Fear Factor Title Screen